Fabrika Records: Doric- Over Mentality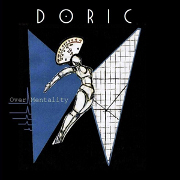 Doric is the solo, side-project of Stathis Leontiadis, mostly known as the one half of the Human Puppets, as well as the Exetix and Plexiglas.
Being involved in various avant garde/new wave music projects since 1996, intrigued by the all analogue mentality of the late 70′s-early 80′s music field, he passionately committed to vintage synths and machines, creating a very distinctive and specific style and considered by many as "specialist". His live performances are all analogue by choice and are interestingly captivating as the sound is being built on stage,just like the old days. We proudly introduced him as a unit to the world, with a brilliant and unique self title 7" (Feb/2013) that was an instant sold out. Therefore the next step of a full LP seemed inevitable and needed.
"Over Mentality" is a record, full of Minimal Electro perfectionism and New Wave complex landscapes, performed with the agility and passion of a natural born Purist. Doric's mentality, carries raw, passionate, old school values filtered with the innovation of a musician that is cursed to live Today. His subjects vary from unexpected loves, cursed lives, wasted, devoured dreams however, all of them cling under one thematic area: How memories fulfill us and keep us sane. The artwork of the record implies the handmade, old school ethos as well.
The LP will be released in 500, hand numbered, limited, black vinyl copies.
Listen here and order here.