Electric Voice Records: Uj Latasmod Fuzio- Amorf, Kulonos, Amorf 1992-1997 CS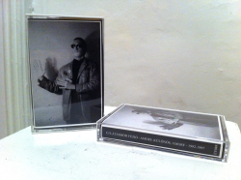 Új Látásmód Fúzió is a cult project of the obscure Hungarian Minimal Electronic scene, founded in 1992 by Gáspár Kornél. Kornél, heavily influenced by the 20th century avant-garde Dada movement in Europe, self released multiple editions of cassette tapes beginning in 1992.
The music of ÚLF is characterized by charmed and rigid expression, minimalistic soundscapes, and poetic offerings from an unmistakeable baritone voice. Amorf, Különös, Amorf is a collection of unreleased recordings from this era, including a raw version of Közelednek az ünnepek which was featured on Electric Voice's Sand Beach. compilation from the Topographic Symbols editions.
Limited edition of 100 cassettes. All music and lyrics are written beetween 1992 and 1997 by Gáspár Kornel excerpt B4 – music written by Gáspár Kornél & Vahu.