La Forme Lente: Bonjour Tristesse- On Not Knowing Who We Are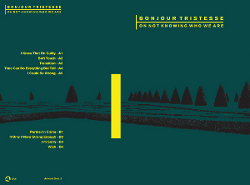 You will probably remember Bonjour Tristesse from the Circuit d'Actes compilation, on which they contributed the fabulous "Partners In Crime".
The Swedish act is back on La Forme Lente with a first full-length album and 9 tracks of excellent synth-pop with Italo undercurrents, showing a sequencing mastery worth the likes of David Harrow or Vince Clarke. The atmosphere oscillates between dreamy neo-romantic and pulsating dance-floor efficiency.
The perfect music for a nightly drive along deserted suburbian streets…