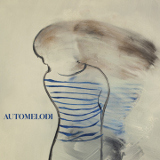 As you might have read in this interview, Automelodi is the latest project initiated by the same head as Echo Kitty and Arnaud Lazlaud. I am a big fan of everything that was produced by these bands since I heard of the amazing hit Supermatos that appeared on the soundtrack of this Quebecer movie.
I have always been very excited about this artist from my beloved land of Quebec, but I'd like to say that I didn't want to post this review because it is a local band, but firstly because it is good! In my opinion, this it is the best project that ever came out of Montreal.
Released by Wierd Records, it is the first Automelodi full length following the Automelodi fait ses courses EP released in 2009. The first song of each side, Schéma Corporel and Buanderie Jazz were the favourite hits both released on the previous EP that many fans will be happy to find on this self titled LP.
The cover portrays a nice pastel sketch that reminded me of Xavier (singer, writer and compositor) banning his head and wearing a typical French fisherman shirt. I found it pretty cohesive with the strong French scene influence the vocals and lyrics are tainted of. Airline is the only song written in English and the singing curiously reminded me of Marc Almond from Soft Cell.
A pop sound, loads of beautiful synths, deep pounding and nasal basses, spacy vintage sounds, simple and catchy rhythms, elegant and poetic lyrics with polished arrangements is what you will find on this record. Sweet, melancholic and refreshing as a rainy September day, it ran under my skin to give me the goosebumps quite a few times.