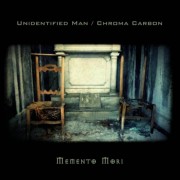 Memento Mori is a common project and collaboration between Unidentified Man and Francois Ducarn aka Chroma Carbon (singer of the french cold wave band Factice Factory and co-singer of the synth project Sine Silex).
Unidentified Man is an analogue synth project, founded in 2013 somewhere in Belgium. With no musical skills, but strongly encouraged by DIY ethics he starts experimenting with analogue instruments and a field recorder. His music is inspired by a wide range of electronic underground and pop music that flourished between the late 70′s to the mid 80′s… He released two cassette albums Remedy For Melancholy and 'Dissociative Identity" (Wool-E Tapes) and a CD "Identify Yourself" on Daft records and appeared on several compilations.
His collaboration partner in crime Chroma Carbon is the lead singer of Factice Factory, a french post-punk and cold wave project that released three albums so far, "The White Days" (Manic Depression), "Nada" (Holy Hour Records) and "Lines & Parallels" (Wave Tension Records). He also collaborated to the band Sine Silex with the Greek singer Kriistal Ann and released one common album "Schachmatt" (Werkstatt Recordings).