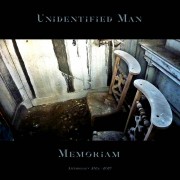 Anthology 2014 -2019 collects 40 songs by Unidentified Man. A one man project from Belgium with a preference for analogue instruments and a strong DIY attitude.
This download contains all tracks from the quickly sold out first two cassettes' Remedy For Melancholy & Dissociative Identity which are mostly Re-mastered by Eric Van Wonterghem (Absolute Body Control) @ Prodam-Berlin.
Other songs can be found in its original form, often live-recorded demos for which there was no time or desire to work them out.
Also present are the tracks previously released on Identify Yourself CD (Daft Records) , Memento Mori Vinyl Ep 'Wool-E Disks ) & various compilations (Wool-E Discs, Walhalla Records, Daft Records, Sleepless Berlin, Wool-E Tapes, Cintas Triangulares, Tacuara records, Gonzo).