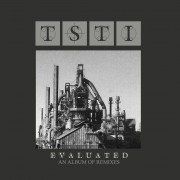 "evaluated" is the companion album to "evaluations", the debut album of TSTI, released on desire18 months ago. It contains 14 remixes (10 on the vinyl + 4 as bonus digital) by producers and bands as diverse as Soft Riot, Phosphor, XIU, Heinrich Dressel, Castratii, Roladex…
Isolated in an upstate, NY bedroom studio exists TSTI, a solo project by artist S. Smith described as 'dark, hazy synthetic pop.' Constructing musical landscapes that combine pounding drum machines with elevated melodies, TSTI stirs the echoes of his 80's influences into a pot of contradicting emotions to establish a diverse yet familiar and powerful sound.
The genesis of TSTI began in a 2003 but did not show its face until the summer 2011 with the self-released, 4 song demo "Black Envelope EP." The first 10 months of 2012 TSTI spent writing, recording and mixing his full-length release "evaluations" which consist of 9 tracks assessing those that surround him.