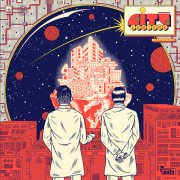 "Le Songe De Kepler" from Paris-based duo Cité Lumière, initially released on cassette only via the fabulous French label "Err Rec", in December 2017. With barely a second listen required, Polytechnic Youth picked up on it and are delighted to release it on wax for the first time; filled out and expanded slightly with remixed tunes and with fabulous new sleeve art to boot…
Eleven mighty pieces of minimal synth / electronique pop, which tip their cap to those trailblazing early synth pop releases via early Mute / Blackwing Studios, Some Bizarre, early Cherry Red and those great Celluloid label releases in France which paved their own minimal synth course from the late seventies.
As the band themselves say: "At first, you must know one thing; originally as rockabillies / surf / punk rockers, we would never imagine one day releasing fully electronic music as you are listening to here! For us, this release is the result of a long path, and is by far the most accomplished thing musically, we have done so far. You will find every influence we could ingest from childhood to the present: film soundtracks, video-game music, 50′s /60′s rock'n'roll, surf music, not to mention our dedicated love to Joe Meek's work and much more…
In our minds, as 20th century kids, "Le Songe De Kepler" is definitely an ode to that period of technologic dreams ("L'envol du Tupolev") and tragedies ("Terminus pour l' Aerotrain"). So please take a seat and enter our world, taking in the sounds of this second version of Kepler's dream, on vinyl for the first time with brand new artwork and crazy reworkings from talented friends with their own visions and interpretations of our music.
We hope you'll enjoy this electronic -and fully analogue- trip we made with our hearts, and, of course, with our lovely vintage synthesizers".