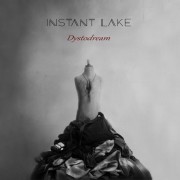 After the first studio work, Refractory, Instant Lake returns with a brand new album, Dystodream, which will be released in triple version, Vinyl-Cd-Digital, once again by the Brazilian label Wave-Records. It is the second album for the quartet of southern Italy with the new formation: Gennaro De Lena (vocals and lyrics) Pierluigi Grauso (guitar and theremin), Carlo Landolfi (bass) and Dario Amoroso (synth and programming).
Dystodream is only partially in Instant Lake's synth-wave/post-punk sound tradition, in songs such as "Ludopatia" and "White Noise", it also marks the transition to more synthetic and martial sounds, in which the pressing and powerful electronic rhythm of songs like "Black Flag", "Death to Slavery" and "Trauma" wink at the industrial sound of the origins. Halfway, in a sort of ideal stylistic bridge, there is "Delicate Obscenity", while in the evocative power of "Tirsch" there are clearly perceptible elements of folk origin. All the musical contaminations of the album Dystodream are a direct artistic expression of the versatility of musical influences and culture of the band as a whole. They wanted to create a final product representing them collectively, merging individual sensitivities. A varied and multifaceted approach to the creative process is also found in the lyrics that investigate a wide range of single and collective emotions. Moreover, some literary references can be clearly recognized.
Dystodream therefore sets itself as a new beginning for the Italian band, but at the same time represents the ideal second stage of a musical way which began with Refractory in the 2017, completing the journey which started with the first two singles + videos: Caustero (2016) and Sit Back (2017). In between the two albums the single + video Death to Slavery was released in February 2019.