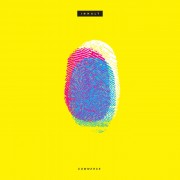 Dark Entries is proud to release the third EP "Commerce" from San Francisco based INHALT, German for "content".
"Commerce" closes the bands anti neo-liberalism trilogy that started with "Vehicle" and left off with the surveillance-themed "Occupations". The course du jour is a close examination of the self destructive tendency of the ego in relation to the allure of negativity and mass tragedy. This, in tandem with the sociopolitical reinforcement of identity as a commercial product, and psychological insanity as status quo, laid the groundwork for the songwriting.
The EP details the psychopathy of relentless thirst mandated by neo-liberalism and traverses through to the adoption of social and economic technologies that strengthen domination vis a vis self enslavement to disempowerment. There are no answers, only descriptors and mantras until the void of wholeness is reached out of complete solitude. The machine has stopped long enough to witness its own destruction in the wake of the rise of consciousness.
The record was produced over four years at the bands own Black Sun Loft recording studio and Different Fur Studios. Paul Lavigne mastered the EP in London, England at Kontrast Mastering and George Horn handled the vinyl EQ curve at Fantasy Studios, Berkeley. Each download includes front and back cover art as well as the complete translated lyric sheet designed by Leo Merz.