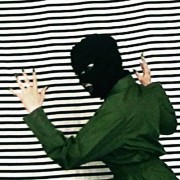 The eagerly awaited follow up to Hausfrau's 2014 debut album 'Night Tides'.
Recorded and mixed at Glasgow's famous Green Door studio (Optimo, Golden Teacher etc), the Trivial Pursuits EP signals a shift towards a harsher yet more playful sound whilst maintaining the characteristic seductive melancholy of Hausfrau's earlier work.
This release is the first by new Glasgow-based label Possession Records, founded by members of Hausfrau, Soft Riot, and Kaspar Hauser.