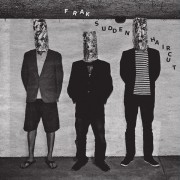 Frak are Björn Isgren, Johan Sturesson and Jan Svensson, a trio of synthesizer lovers from Sweden. The band was formed when Svensson and Isgren's older sisters were best friends and they introduced their little brothers to each other. Inspired by Severed Heads, DAF, Human League, Devo, Skinny Puppy, the boys began collecting analog equipment and started Studio Styrka. While the band were still in their early teens they released the first FRAK cassette album in 1987 on their own record label Börft.
Almost 30 years later, FRAK continue to release their bizarre brand of Scandinavian techno with their debut release on Dark Entries. "Sudden Haircut" was recorded in 2015, a ten-minute brooding, heavy hitting acid attack full of 808 drum claps aimed at the dance floor. The three remaining songs come from a studio tape the band found in their archives named 'FRAK "After The Silence" 2001-2010' "Synthgök" and "Synthfrilla" were recorded in 2010 and originally released on the 'Börft' EP by Sex Tags Mania in 2012. Utilizing a 808, 303, 101 and MS-10, both are supreme cuts of electro-leaning acid techno that perfectly fit the dancefloor's sweatiest moments. The deliciously rugged final track "First Glimt I Ögat" is a vintage unreleased Frak song from 2001.
Listen here and order here.