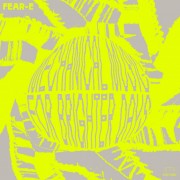 Glaswegian producer Fear-E returns to Dark Entries with Mechanical Music for Brighter Days. Scott McKay has been using the Fear-E moniker for the better part of the last decade to explore rave-inflected acid techno as both a DJ and producer. Since 2016, he has released on lauded labels such as Dixon Avenue Basement Jams, Don't Be Afraid, and Super Rhythm Tracks. He made his debut on Dark Entries previously with Grey Skies in a Dear Green Place in 2019.
Mechanical Music for Brighter Days contains six diverse tracks that are united by their unbridled energy. While Fear-E centers DJ functionality, these works are not to be dismissed as mere DJ tools; they ooze personality and display subtle mastery of varied rave idioms. "D10S" and "Gladiator Rhythm" offer chunky electro beats, muscly synthlines, and ethereal sci-fi pads harkening to both Detroit and Den Haag. Elsewhere, such as on "El Bimbo de Oro" and "New Cycles", Fear-E channels the kind of raw, high-impact techno that would have been at home on labels like Djax-Up-Beats or Tresor in the 90's. But the tracks on Mechanical Music are knowing without descending into pastiche – Fear-E's clever production techniques keep things fresh. All tracks were mastered by George Horn at Fantasy Studios. The artwork by João
Ervedosa features a rave nostalgic neon yellow and slate gray color scheme with blocky robotic text.