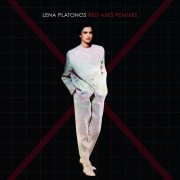 Lena Platonos is a pioneer of the Greek electronic music scene. Her second solo album, 'Gallop', was produced in 1985, and reissued by Dark Entries in 2015. The album was made exclusively using analog synthesizers, and prominently features the iconic Roland TR-808 drum machine. Lena narrates each song, reciting her own surreal poetry. Lena says of 'Gallop', "It's a study in the mythology of urban population of the contemporary metropolis and also a gaze into the future life of it."
We've recruited Tel-Aviv's Red Axes to remix four of their favorite tracks from 'Gallop'. The duo, DJs and producers Dori Sadovnik and Niv Arzi, were raised on a diet of post-punk, new-wave, and Italo-disco at fogged out warehouse and basement parties. Their own productions and remixes have appeared on labels such as I'm a Cliché, Correspondant, and Hivern Discs. Through their alchemy, "Witches" and "And We Hear "I Love You" have been transformed into solid dancefloor tools, while "No. 9" and "Liqueur Ruby" are submerged in psychedelic mist. The latter features middle eastern rhythms by fellow Tel Aviv musicians The Dirty Lizards.
Listen here and order here.