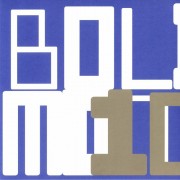 In celebration of Bold Monday's 10th anniversary we invited two of our favourite artists, Le Cliché (Gerard Ryan residing in Barcelona) and Colophon (3) (Bas van Vuurde hailing from Haarlem) to compose six exclusive tracks. We are releasing those tracks as a special limited edition EP on vinyl.
Design of the outer and inner sleeve is by London based MuirMcNeil. We are longtime admirers of their work and were thrilled when Paul and Hamish agreed to design the artwork for this project.
Final mastering was handled by Marco Spaventi in Amsterdam. The resulting digital audio files have been pressed on 140gr vinyl by Record Industry in Haarlem.
The tracks on this EP can be categorised as contemporary electronic music with a clear nod to its roots, while both artists opted for a different emphasis as well. Le Cliché composed the tracks Francophilia, Ergophobia and Chorophilia inspired by experimental postpunk and early synth pop. Colophon on the other side created Monospace and Methods of Synchronism referencing the more dance-oriented styles from 1980's New York and Detroit, with the track 574 Mondays serving as an ambient interlude.