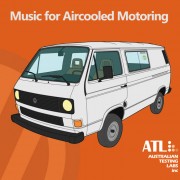 Music designed to cope with the noise of motoring in the VW Type 2 and Type 25 Transporter.
Recordings of highway driving were made inside the cab of a 1981 VW T25 Kombi travelling at 80kmh and used to test, compose and mix music that could be heard above or in harmony with the noise of the road and the air-cooled engine.
The frequencies used have been carefully selected and rigorously road tested and when played in a moving van, will blend with the ambient sound of the vehicle and create a unique and harmonious driving experience. As each van will differ slightly, so then each user's experience will differ accordingly, making this a truly unique pleasure for each driver or passenger.