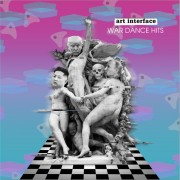 "There's nowhere to run to anymore – There's nowhere to hide from the Third World War, You gotta live each day like it's your last – You're gonna lose it all in a nuclear blast."
ART INTERFACE started in Lansing, Michigan, USA, in 1981, when Douglas Vasey (synths, bass, vocals, production), Steven W. Curran (additional synths) and Claes Roswall (drums) were just messing around with a TEAC 4-track, a couple of Moog, Roland and Korg synthesisers, and no real ideas. Having a real drummer is what drove the songs a bit wild, since nobody knew what was going to happen and they kept responding to what each other did.
Their first recording was "Secretaries From Heaven" which they sent to John Loder at Southern Studios in London, also known for being the studio of choice for Crass. John invited the band over to re-record it, so Douglas went and did it, and then worked for John for a while, and was a roadie for Crass, too. Back to the States, ART INTERFACE self-released "Secretaries From Heaven" as a single (IF2, 1983). Steven moved on running an 8-track studio and Roger Deason joined on guitar. In the following year they released the famous "Wardance" single (IF3, 1984) and two years later the vinyl debut "Great Big World Of Noise and Shit" (IF5, 1986). Then silence until 2005 when "Adrift In A Dream" was released and 2015, when Vinyl-on-Demand records released a double LP compilation with early tracks from 1981 to 1986 including the Southern Studios sessions and a co-operation with Annie Anxiety. Now, ART INTERFACE are back with a new EP which includes the previously unreleased track "Dance Hit" from 1981 which will appeal to fans of Units, Crash Course In Science and the likes, the newly remastered and still pertinent "Wardance" from 1984, and two new ones from 2017 ("Vox Populi", "Thumbs Up").