Wave Records: Twilight Ritual – 1982​-​2021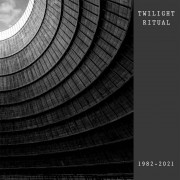 Best of compilation from one of pioneers of Belgian darkwave / coldwave / synthwave. Geert Coppens and Peter Bonne started the band AUTUMN in 1981 and in 1982 they moved to TWILIGHT RITUAL project who recorded 9 albums and 2 singles. In 1985, Peter Bonne aka Chrismar Chayell founded A Split Second with Marc Ickx, and TR stayed as second plane for years. The iconic album RITUALS, including the hit CLOSED CIRCUIT was a rare item to found in the 80′s and 90′s.
Twilight Ritual was born in Geert's mind during the first Autumn years. It was building integrity, clearer identity, admittance of mystery and surreal impressions. During Autumn recording sessions, musical style and experiment varied strongly, which is recognized in the various tape releases. However, some tracks had clearly more 'spirit' or 'personality' than others. It became clear that a new project was born out of Autumn work : Twilight Ritual.
Geert Coppens and Peter Bonne have been involved in many different projects, including many different musical styles, about which you can read more on other pages on this site, e.g the Micrart Group story, the Autumn history or within the A Split Second history.
The spirit of Twilight Ritual lingers on beneath the work of Autumn through A Split Second. The work of Twilight Ritual is diverse, yet concise. The Twilight Ritual work in the eighties inspired many other musicians, and became known throughout the world.