Red Maze Records: Radikal Kuss – Niemand hat das Recht zu gehorchen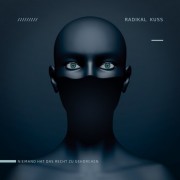 Radikal Kuss joins Red Maze / Strange Arts and delivers a dark, melodic and intense 4-track EP. "Niemand hat das Recht zu gehorchen"
Radikal Kuss's signature Body Beat expands to new horizons, exploring unusual paths. On an incessant rhythm, the sound of the duo combines After Punk and Dark Wave influences in a dystopian atmosphere.
Eerie synths and feverish bass accompany the melancholy voice recounting a woman's frightening confrontation with the outside world, the need for an honest social conscience, freedom of movement, but also the obsession with the final images of a passion. romantic.
Despite the themes can cheer Radikal Kuss, succeeds in bringing beauty and hope into a deeply immersive atmosphere
Confronting your anxieties and fears is sometimes necessary to escape the madness.