Kakakids Records: Blak Saagan – Se Ci Fosse La Luce Sarebbe Bellissimo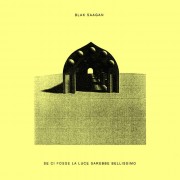 If you could paint the world black, rediscover it with a flashlight illuminating every single detail and turn each finding into an obsession while gliding across the murk then you might stumble into Blak Saagan's new magniloquent quest 'Se Ci Fosse La Luce Sarebbe Bellissimo' (If there were light it would be beautiful), a monstrous work of dedication and sound architecture that investigates and soundtracks one of the saddest and most obscure pages of Italian history: the 1978 kidnapping of former prime-minister Aldo Moro by the Red Brigade terrorists.
Based near the Venetian lagoon, Samuele Gottardello aka Blak Saagan, has been crafting his own library music for years merging the tradition of Italian 60s/70s psychedelic OST's, ambient, drone, rhythmic electronics with kosmische kraut landscapes and Industrial wave to create ritual hypnagogic experiences. While his first record 'A Personal Voyage' explored outer space influenced by the work of cosmologist Carl Sagan, 'Se Ci Fosse La Luce Sarebbe Bellissimo' is a completely different beast, a sinister terrestrial atmosphere pervades the recordings, a relentless throbbing beat that maps out the complexity of this new endeavour. Every song has a title that connects with the Aldo Moro case; 54 days from Moro's kidnapping and assault on March 16th 1978 to the finding of his body in the trunk of a Renault 4 on May 9th, the 86 letters he wrote during his detention, the communications and negotiations and the uncertain role of the secret services.
It's like a path that goes deeper and deeper, with moments of tension, moments of suspense, dream passages obfuscating reality and drum rolls echoing hyper-reality. One could say it's like the soundtrack of a movie that was never shot. Recorded over the course of two years with the use of a Farfisa Vip 205 organ, Roland TR-606 and 505 drum machines, Siel Orchestra synthesizer, Moog Model D and various analog effects, this 4 sided LP comes as dense as they can, moving from the autobahn Kraftwerkian loop images of 'Convergenze Parallele' to the cold blooded synth-wave of 'Scuola Hyperion' and 'Achtung Achtung'. 'L'uomo incapucciato' ups the drama recalling Goblin's 1978 OST for Dawn Of The Dead, while 'Ore 9: Attacco al Cuore dello Stato' is pure Italian police soundtracks, elevating gongs, percussion and orchestral elements to Morriconian suspense that reaches new heights in 'E Lo Spettro Disse: Gradoli' where celestial flutes intertwine and carry on the rapturous terrestrial legacy of Italian maestros Alessandro Alessandroni, Egisto Macchi and Piero Umiliani. Blak Saagan's work would not be complete without nods to Carpenter and the 1978 crossroads where post-punk, sci-fi, new wave and minimalism collided creating alien experiments ('Dentro la Prigione del Popolo', 'La Firma Del Legionario'). Ending on the majestic 8 minute title-track, Se Ci Fosse La Luce Sarebbe Bellissimo, the album finds its moment of catharsis, a world free of any rhythmic constriction where the mystical dances with the unknown and where light finally has permission to invade and permeate reality. [Johnathan Clancy]