Third Coming Records: Maurice Business – Stock Market Rhythms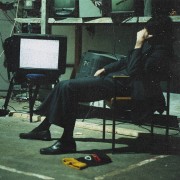 Maurice Business, a man of many good traits, shares stories of his life from an unclassifiable era. His melancholy lyrics, laced with a dark humour, hold a personal insight into his own bleached mind, touching on betrayal, tragedies and stupidity.
After the release in 2020 of a debut EP via australian tastemakers Burning Rose, Mr Business finds himself lost yet again in another portal, this one leading to the lands of 'Stock Market Rhythms', trapped inside another flesh suit in wall street, what's really going through their head and how did they get there ?
"Stock Market Rhythms" channels through this energy to bring you four fabulous tales of what is in the mind of one of these creatures.