This Is The Bridge – Once Upon a Time In The North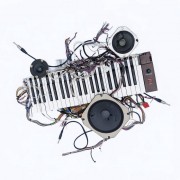 This is The Bridge is a solo and collaborative electronic music project based in the London area, but with roots in Liverpool. It began in 2013, exploring a 'primitive electronic' DIY sound using mainly analogue synthesizers. From 2016 onward, new material has also been released on TONN Recordings in Belfast.
Recorded July-August 2020 in High Wycombe, Buckinghamshire, UK. Hardware used: Korg Minikorg-700, Korg MS-20M, Yamaha CS-15, Arturia Minibrute SE, Moog Subsequent 37, Behringer Model D, Korg Minilogue.
Digital Album [free download]