X-IMG: Unconscious – Regnum Novum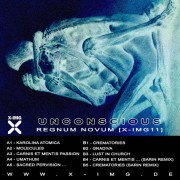 Unconscious returns to X-IMG with 8 tracks of carefully crafted dark electronics operating on the fringes of body techno, acid, wave and italo. This release also Includes 2 remixes by SARIN. 50 Limited Edition hand numbered cassettes with a total run time of: C-60.
Milan based Andrea Riberti has been active in various scenes since the late 90's from his days as a graffiti artist to his first Akai 950 and Atari ST-1040 machines for production. He currently operates under the "Unconscious" moniker as a live artist and producer with his roots cemented in early rave culture, drawing from the wake of Post Punk, Industrial and Body Music. As a project, Unconscious surfaced in 2013 to further experimentation within electronic music, acting as an outlet to communicate raw, post-industrial sounds and emotions.
Earlier works under the alias were focused on a purist techno sound with traces of EBM influences emerging thru releases such as 2016's "Codex Gigas" EP on Berlin-based Advanced, and 2017's sophomore album "Chaos Theory" on Moscow based NEN Records. Proceeding releases on SARIN's X-MG, Marc Ash's Blacksilk, Berlin-based Instruments of Discipline and AREA Z, began to define an evolving sound and movement towards new interpretations of EBM, Italo and acid that combined raw and nostalgic sounds with a sharp modernity. Unconscious' live and hybrid performances are aimed at the fully body, moving dance floors with a charged and sonorous strain of Industrial-EBM and Techno.