She Lost Kontrol: How Green Is My Toupee – Limited Edition Boxset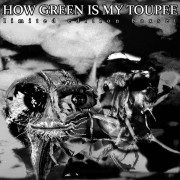 Influenced by Severed Heads, Garry Bradbury, and Skeptics, the band members Dom Krsic & Frank Sumatra team up to create an acerbic marriage of energized lush melodies blending synth-pop with industrial/post-punk disciplines.
Their curious tape loops and industrial noises melts together with clanking drum machine rhythms, surging body grooves and distorted synthesizer melodies. The result is a Psychotic FM Synth Symphony where the Croatian artist slowed-down, sped-up, reversed, and decontextualized his music into a timeless deranged cacophony of samples and percussions.