Dark Entries Records: Linea Aspera – Preservation Bias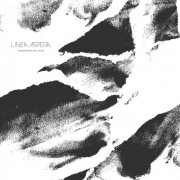 Dark Entries continues celebrating our 10 year anniversary with 'Preservation Bias', a compilation of lost songs and rarities from Linea Aspera out June 28th. The group formed in London in November 2011 by Ryan Ambridge (Synths/Programming) and Alison Lewis (Vocals/Synths). Within the duo, Alison writes and performs all vocal elements, while Ryan is responsible for producing, recording and mixing the electronics. We released their debut self titled album in June 2012 that was followed by a posthumous vinyl reissue of their tour cassette "II" on Weyrd Son Records in 2013. For all recordings Ryan utilizes an analog synthesizer set up: Roland SH-09, Roland Juno 6, Vermona DRM MKiii, Korg Poly 800 and Analogue Solutions Semblance.
Linea Aspera's sound includes clear influences from 1980s electronic body music, synth-pop, industrial and noise. Lyrically the band incorporates the sciences of osteology, neuroscience, and anthropology weaving a new medical language around themes of desire, despair and renewal. Linea Aspera is the muscle attachment on the back of the femur and translates to 'rough line' in Latin. 'Preservation Bias' features all three songs from the limited 'II' tour cassette EP, four songs from the 2012 self-titled limited cassette EP and one song from the Desire Records 2013 compilation 'And You Will Find Them In The Basement'.