Buh Records: BR115 – Server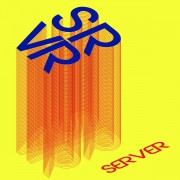 A hybrid of Hi-NRG, Italo Disco and Synthwave that escaped from the lab and landed on the dance floors.
Server is Andrés Perez and Antonio Ballester. It materialized in 2017 as an electronic duo, but the collective consciousness from which it sprung developed much earlier in the Lima of eurodance combis, in the brutalism of Galerías Brasil, in the gothic clubs of Santa Beatriz and in the sweaty dens where the second Limean surge of hxc punk boiled the blood of a mutant youth.
Server started its operations under the pseudonym VIDEODROME, a tribute to Cronenberg and to the aesthetics of Cine Millonario, a popular Peruvian TV show of the nineties.