Sham Recordings: Container 90 – Friendship And Love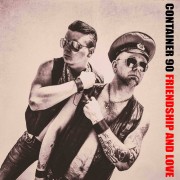 Container 90 are back again and for the first time on 7". Those familiar with the usual electro punk, EBM sound of Container 90 can expect something slightly different. These tracks are actually quite old and are a kind of leftovers from producing the albums. The songs did not fit the sound of the albums but was still good enough to be released, so the single format was a way to go. We love 7".
The song Friendship And Love is a homage to the early electronic sound of Germany and Neu Deutsche Welle. The lyrics are translated fragments from DAF lyrics and ended up as a tribute song to Robert and Gabi in all aspects of lyrics, instruments, sound and artwork. On the flip side you find a slow track inspired of the cold war era and nuclear power.
Acoustic drums are used on these recordings and are played by the super creative Stefan Eriksson that usually works in bands like Sister Electra (synth pop), Brotherhood (goth), Sophia(industrial), Fenix (indie pop), Alfahanne (rock) to name a some of them. Some girls' choir was also added to get closer to the right feeling of the NDW sound.