aufnahme+wiedergabe: Dune Messiah – Moments Of Bliss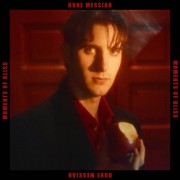 Dune Messiah develops misanthropic persona on the new album Moments of Bliss. The Danish folk-noir artist Dune Messiah, unfolds a universe of black romance and mysticism. On March 29, he is publishing his second studio album "Moments of Bliss", through French label Third Coming Records and German label Aufnahme + Wiedergabe.
Throughout the album we get to know a kind of isolated character express his bitter emotions and pity for humanity. A misanthrope who is outside the common society and sometimes with a sense of jealousy tries to reach out towards it. The character often finds himself hopelessly in love with a female figure, or in hateful envy and with a burning desire to destroy or degrade the female figure as a reaction to this. In the song Silence and Surrender, the man behind Dune Messiah, Magnus Westergaard sings: "They say that forgiveness is a way to be free, and Jesus told us all just to turn the other cheek, within silence and surrender, there has been a way of showing you the faces of the people you betrayed".
The overall theme of the album thus deals with escapism and exclusion from society. An escapism that can also unfold in abuse of substances. Hence the inspiration for the song A Moment of Bliss, Westergaard explains: "The song's lyric side has two themes; a cross-over of a state of deep meditation, seeking an inner peace, and a state of escape through heroin abuse, which can give the same sense of inner peace, but which eventually may lead to death. The title of the album Moments of Bliss, therefore also has an embedded ambiguity; a mystery that can also be reflected in the unfathomable smile of the misanthrope. The title is very much self-ironic i think".