R.A.N.D. Muzik Recordings: VEF 317 – VEF Radio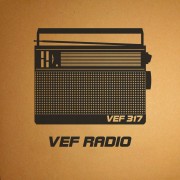 This is the story of a love affair with once modern technology. It's told by Soviet drum machines and sci-fi synth lines arranged in playful minimalism and mixed with Detroit futuristics.
A Leipzig label collaboration between YUYAY, PossblThings and R.A.N.D. Muzik presents this multifaceted music by Kirill Junolainen.