Infravox Records: Doric – A Distorted Reality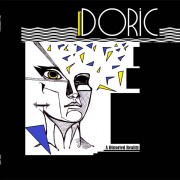 Doric is the moniker of Stathis Leontiadis (Human Puppets, Data Fragments,Exetix,Plexiglas).
Being involved in various avant garde/underground music projects since 1996, intrigued by the 'all' analogue mentality of the late '70s – early '80s music field, he is passionatelly commited to vintage synths and machines, creating a very distinctive style and considered by many as a "specialist". "A Distorted Reality",his second LP (overall,his fourth physical release) and probably the gloomiest/darkest of all his work,is a rather ominus view of the future,through the lens of self-determination and self-redirection.
The loss of dreams described as an everyday personal death that distorts and perverts our charisma,is the main theme in every inch of this record.Doric once again, collaborates with Pascal (Foucault, Noisetoy, Ludmilla) and Valisia Odel (Phoenix Catscratch, Strawberry Pills, Father Breath) and empowers the inclusive aura of the Album with complex New wave features and delicate dark wave chimes.