Black Verb Records: Child Of Night – What Remains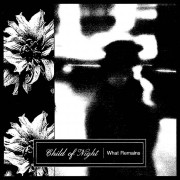 Columbus, Ohio darkwave duo Child of Night, made of Jonathan Thompson & Tristan Wolfe, released the 5-track EP "What Remains" on cassette tape, with their distinctive blend of electro, cold and gloomy sounds.
In "Sirens" pulsing crunching bass lines, unrelenting synthetic beats and icey wash of synths plunge into the depth of a weighty, bleak and dark soundscape. Fuelled by Tristan's defiant and commanding baritone vocals, declaring his fearless attitude in reaction to the doom and dread of today's reality. Will you succumb to fear or fly above it?
An intriguing brooding song of aching intensity and rare immediacy. [Whitelight / Whiteheat]