Unknown Precept: Eindkrak – Brullend Staal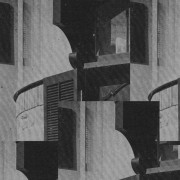 Amsterdam's worst kept secret makes it back to Unknown Precept with his long-awaited album and first solo output since the acclaimed Divine Bovine cassette mini-album. Inspired by an evening spent in a restaurant next to a car demolition site, Eindkrak's long player debut echoes the distant sound of steel being crushed and cars pressed into cubes. All this noise, in combination with the taste of good Italian food, lead to the eleven tracks making up for the aptly titled Brullend Staal — loosely translated to weeping steel. A leisurely stroll on crumpled metal sheets, the acidic hints of oxidized metal and the smell of gasoline. Inaudible and distorted vocals as if smothered by the clatter and smokestacks of steel factories.
Eindkrak's first full-length is all about this disquietude made of melted and straightened metal. A resounding and tumultuous din. Try to eat some nice gnocchi while listening to this album, and you'll see what it is all about.