Oraculo Records: Velvet Kills – Mischievous Urges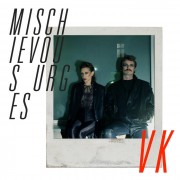 Velvet Kills is a thoroughly modern and urban endeavour, speaking directly to today's society – with all its anxieties, addictions, destructiveness as well as exhilaration. You'll find in their driving beats raw emotion, and a terrific darkness. The sound is complex, almost abstract – a combination of cinematic textures, gritty guitars, and potent vocals.
The group's music and attitude, both have been shaped by the influences of bands and artists like Alan Vega, Malaria!, Kas Product, Iggy Pop, The Clash, and Lou Reed.