Cold Beats Records: L'Avenir – Soir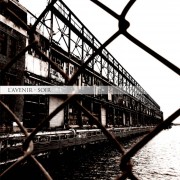 L'Avenir is the cold synth side project of veteran electronic musician and sound artist Jason Sloan. Known throughout the space and ambient music scenes for his contemplative electronic soundscape work for over a decade; Sloan founded L'Avenir as a side project in 2012 to explore his long time love of synthpop and minimal wave music created purely from analog and vintage equipment.
While releasing over a dozen solo albums and E.P.'s under his own name, Sloan has played live all over the US, Canada and Europe including the influential Live Constructions radio program at Columbia University, STEIM in Amsterdam, CMMAS in Morelia, Berlin's Liquid Sky TV and Philadelphia's The Gatherings concert series, one of the country's oldest continuing ambient and electronic music series.
Sloan is a Professor teaching full-time in the Interactive Arts department along with being the founder and program coordinator for the Sound Art program at the Maryland Institute College of Art in Baltimore, Maryland.