Unknown Precept: Santiago – Life, Money, Work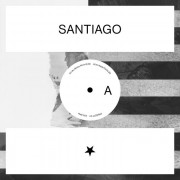 Santiago Leyba makes his vinyl debut on the label following the 'Rooms' tape released earlier this year. Recorded simultaneously, 'Life, Money, Work' shows the New York-based artist by way of Albuquerque, New Mexico, portraying the different characters one might have in a broken mind.
Sketching a strong criticism of America by means of disorienting vocals and slow-paced D.I.Y. electronics, SANTIAGO finds him performing alter-egos of sorts — ranging from forlorn ballad singing, to more guttural and strained barking seeking to describe a conflict in maintaining a unified persona. Paid labor, sex, and consumer goods. How America tells you to grow up when there is nothing left but complacency and oppression through economic and social means. It all goes down to the shortcomings of humanity, the tangled webs we weave, the impossibility of justice and fairness, and the pressure those things put upon ourselves.