Unknown Precept: Pyramid Club – Cyclic Obsession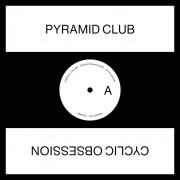 Joining the Unknown Precept forces are C.G.I. Records' label head Matthew Weiner teaming up with Christopher Daresta as Pyramid Club. Being known for their T.W.I.N.S. and Anticipation solo activities, 'Cyclic Obsession' comes as the debut release of the four-handed formation taking its name from the eponymous venue which helped define the counter-culture and queer sound of lower Manhattan in the late 70's.
Recorded in their stronghold of Atlanta following a handful of tracks released via the jointly-operated D.K.A. Records, it shows the duo taking over primitive body music in its most physical and psychedelic dimension. Thick as a brick bass lines for the basement turmoil — reflecting the hazy vortex smoldering out of an ill-lighted nightclub. Think of spasmodic synth-driven tunes interspersed by convulsive vocals and throbbing snares, in which one could see the whites of the dancers' eyes right before the lights turn back on.