Unknown Precept: Karma – King Rambo Sound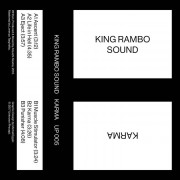 Latest addition to Unknown Precept's ever-growing community is Sendai's newcomer King Rambo Sound, ultimately making his way to the European audience by becoming the fifth installation in our ongoing tape series.
Member of the far-off Aoba Nu Noise DJs collective in Japan, Atsushi Akama's boiling technique is genuinely agitated and does not get embarrassed by exaggerated narratives. Instead, the Japanese producer has been following some sort of empirical approach as if to better disconcert us. Leading to tracks running out of breath on seductive epileptic rhythms, crashing abruptly into the wall. Akama, by being as minimalist and unadorned as possible, manages to capture what makes the strength of rhythmic noise and modern electronic music. Layering a jumble of styles with intense strokes of snares and to-the-ground wobbly bass lines, 'Karma' does taste and smell of molten steel and burnt samplers.