Black Verb Records: I Tpame I Tvrame – Future Attitude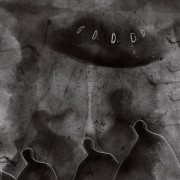 'I Tpame I Tvrame' is a duo, formed in early March, 2016 by Franc Kurti (Tirana, Albania) and Dina Hajrullahu (Prishtina, Kosovo).
Since we met each other in 2015, we could feel a musical connection between us. We had the same musical chemistry. So we started to create our own music. The sound of I Tpame I Tvrame comes from a very wide range of music that has influenced us throughout our lives, from post-punk, to grunge, trip hop, darkwave, minimal wave, techno, industrial, shoegaze, experimental and all the good and innovative music; anything that would sound different to us. So we take small pieces from everything that fascinates us and from all our experiences that we go through together, and try to put them into life with music.