Citrax: Broken English Club – Suburban Hunting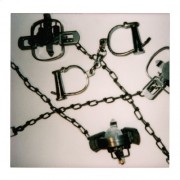 We are excited to announce a full length album (2×12") by key Cititrax artist Broken English Club. After the strong reception of his split EP with Silent Servant, solo work for both Cititrax and Jealous God, and recent feature on the Cititrax: Tracks Volume One EP, Oliver Ho (also known for his Raudive alias) expands upon the themes in his earlier output. Now though, he is presenting Broken English Club as the multifaceted project that it is. He fearlessly exposes a range of emotion through varying sound, texture and song structure. The result is a manifestation of his influences (post punk, noise, techno, grindcore) melded into his own unique vision and culminating in an album that sounds absolutely massive, both on and off the dance floor. About Broken English Club, in Oliver's own words:
"It's not about some idea of the future, it's about a grubbier seedier world. Theres no superior technology here, there's a romance to damp concrete buildings and abandoned reservoirs. Somewhere in the nursing homes that smell of bleach and piss, under the jaundice yellow glow of street lights, there's a dark soul. I like music with a sense of dread, there's drama or suspense in that feeling somewhere.
I am fueled by the energy and noise of 1980's grindcore. The track "Scum" is a tribute to the Napalm Death song of the same name. Those kind of brutalist noise bands are a very English thing to me, the oblivion of that is romantic. I am fascinated and disgusted by things, and I like that friction. The best things in life seem perverted and disgusting at first and then become beautiful and transcendent."