Chondritic Sound: All the Little Devils Are Proud of Hell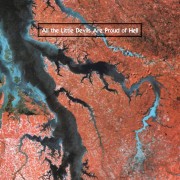 Massive double cassette compilation to celebrate our 300th release. 18 artists, some old and some new to Chondritic Sound, spanning a variety of experimental, atmospheric and industrial styles. Conceived as an introduction to the past, present and future of the label.
Featuring exclusive songs, in order of appearance: Image of Life, S. English, Oil Thief, Sleep Clinic, Smokey Emery, Liebestod, Mortal Bodies, JT Whitfield, Pleasure Island, Scant, L.F.A., SECAM Kino, Granite Mask, Ligature, Plagues, Strain of Laws, The Siamese Pearl, and Hive Mind.
Edition of 200, packaged in a 5″ box with professionally printed covers, labelled tapes, foldout insert and download code.