Beläten: Feuerbahn – Suolo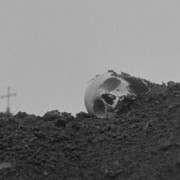 Italy's Feuerbahn return after over two years of silence. Their previous cassette, The Fire Dance released by Aufnahme+Weidergabe was a chaotic affair, an aspect that has been pushed to the side for Suolo (Italian for Soil), focusing instead on the somber, funeral march atmosphere that might just be the core of the band.
It's difficult to describe the music of Feuerbahn. There are hints of post-punk, but they just as easily fit into the current wave of dark Italian neo-psych. On the one hand it's quite majestic, but on the other hand the sheer filthiness of it invokes a feeling of utter despair. Like wandering the barren lands of a post-apocalyps Europa.