Infravox Records: Ståltråd -Toner från det stora Alvaret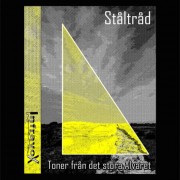 This is a compilation of tracks recorded between 2001-2014. The recordings took place on Öland, Kalmar and in Stockholm. With roots in punk, Ståltråd turned completely electronic in early 2000 but has always strived to keep it minimalistic and punk. Lyrics is about every day life. Mainly about boredom, emotions and politics. Thanks for all your support out there.
Edition of 100 cassettes.