Bestial Mouths – Hissing Veil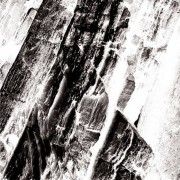 Steadly grown a intense following in the southern California death rock / minimal synth scene over the past few years, Bestial Mouth's coalesced a meditation on the relationship between transgressive rock and illuminating electronics conceived in a flurry of automatic annihilation, Hissing Veil is an urgent declaration revealed in a barrage of primitive rhythms and feral calls.
Uncompromising, beautiful synth and beat driven compositions haunted by deep and brooding female vocals. Described by some as ritualistic, other compare Bestial Mouths to a haunting horror soundtrack only with a hopeless surrealism added for good measure. Their live performances are an relentless whirlwind of gothic rapture, recorded the band flawlessly captures this energy into the new post punk classic cannon.