Anna Logue Records: Epic Dreams – In The Cold Light Of Day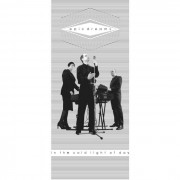 Inspired by the early 80′s Cold Wave and New Wave, a German trio consisting of Andreas "Andi" Koch (synthesisers, backing vocals), Joachim "Joa" Saleina (synthesisers, drum machines) and Götz Langenbruch (vocals) already started recording together in 1986, disbanded in 1989 and reformed in 2008 as EPIC DREAMS with the aim "to revive the flair and sound of the early 80s – Electronic New Wave Music". Since then they've re-recorded many of the original recordings and recorded new material which found its way already onto various compilations and two 7″ single releases. Using wonderful analogue synths and drum machines such as the Boss Dr. Rhythm DR-110, Casio VL-Tone, Korg KR-55 / M-500 SP Micro-Preset / MS-10, Roland CR-68 / Jupiter-4 / SH-101, Yamaha CS-01 II, they've found their very own melancholic and romantic style.
This CD contains material compiled by the band members themselves and differs from the upcoming 2LP version in both track selection and song versions.