Beläten: Daybed – Weird Sailing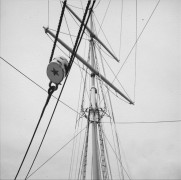 Following on from their 12" EP "Preludes" (no emb blanc), Daybed (New Zealand/USA) releases their full-length album "Weird Sailing" in April, 2015 on Gothenburg-based Beläten Records. A diverse collection of songs set against analogue synthesizer landscapes, the album playfully jumps between the upbeat and pop-inspired to the reflective and lyrical. "Weird Sailing" consists of ten original tracks as well as a special cover of KKD's minimal synth gem "And Your Mind".
Hailing from New Zealand and the USA, Daybed crafts music that both references and innovates on the wave genre. Band members Tim Farland and Carla M use these elements to produce songs with a hint of discord that alternately reject and accept traditional pop structures. The effect, pleasurable yet jarring, is heightened through heavy use of analogue synthesizers. Having performed with classic minimal synth acts such as Oppenheimer Analysis, Sudeten Creche and Somnambulist, Daybed balances nostalgia for the sounds of the past with a strong musical focus on the present. "Weird Sailing" combines these aspects, representing a pop odyssey with palpable links to the history of underground music.