Anna Logue Records: Twins Natalia- The Destiny Room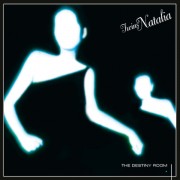 It 'only' took TWINS NATALIA five years to complete their debut album, but to them it just had to be perfect in every aspect, from each sound, note and word to each and every pixel, and quality needs time, trying to create the perfect electro pop record. In 2008, TWINS NATALIA was formed when Marc Schaffer (Shibuya Station, Solitairen Effekten, Solitude FX and Anna Logue Records) played some demo recordings to Dave Hewson (of early 80′s New Wave/Electro Pop icons Poeme Electronique and since long a professional composer for EMI including library music series, commercials, jingles, etc.) who wanted to work on those tracks while graphic designer Steve Lippert (Treeline and Attractive Co-ordinates label boss) spent hours of inventing fictional "new wave" or "minimal synth" band names, song titles and artworks, too, and amongst them was the TWINS NATALIA moniker, hence the project was born. Sharon Abbott and Julie Ruler (both also of Poeme Electronique fame) were recruited on vocal duties and a first 7″ was released, followed by two sampler contributions and an extended 12″ – coupled with the revived Poeme Electronique in 2012 – paving the way to their debut album "The Destiny Room". The title "The Destiny Room" was coined by Dave and described Marc's little home recording studio where all tracks were demoed on almost purely analogue gear (e.g. Roland CSQ-100, SH-2, TR-808 and Crumar Performer) and according to his vision of melancholic yet melodic electro pop, slightly inspired by Experimental Products, Kraftwerk, OMD, Rational Youth and the likes. Dave co-composed, arranged and performed all tracks in his Hewsonics studio using latest technology and adding his incredible playing skills (listen to those solos!), expertise and imagination, always in close co-operation with Marc so that the analogue spirit remained while being transformed into the 21st century. Sharon and Julie added superbly professional and versatile vocal performances based upon wonderful and substantial lyrics written by Sharon or Steve, the latter making the whole package complete by adding a stunning and perfectly fitting artwork.
All in all, a high-class melodic 10 track electro pop album (14 tracks on CD including the cover of Marsheaux's "Radial Emotion", the extended 12″ version of "I Avoid Strangers" plus the debut 7″) – never 'cheesy' or too commercial, always still melancholic with lots of attention to detail, complexity and versatility, from the minds of creative people for the active listener, and the dancers, too.
Limited edition of 400 copies (293 sold as single items), 180 grams black vinyl, UV varnished full-colour outer sleeve, UV varnished lyrics inner sleeve, DIN A3 poster and double-sided DIN A6 postcard.
Listen here and order here.