Anna Logue Records: Azure Blue- Beyond The Dreams There's Infinite Doubt / Rule Of Thirds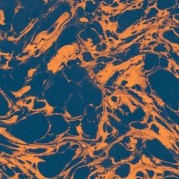 Anna was offering AZURE BLUE's debut album "Rule Of Thirds" in her mail order section when it came out which was special because it differed from the usual early 80′s or contemporary 'minimal synth' or 'cold wave' related releases sold there. But what was even more special was that Anna declared the album as "Best album of 2011″ which she never did before, or after. Why? Because this album was simply so special, so utterly beautiful, soft, sublime, emotional and touching. A warm melange of electro pop, new wave, shoegaze, or maybe simply termed dream pop as some like to call it, with incredibly strong, catchy yet deep pop songs throughout the album with no drop outs at all … when suddenly the follow-up album "Beyonds The Dreams There's Infinite Doubt" was announced, with its first single "The Road I Know", and Anna was blown away again, what a masterpiece of melancholic synth/dream pop so Anna couldn't do otherwise than officially expressing her wish to release this on quality vinyl via Anna Logue Records, adding the debut album for a vinyl premiere, somehow like said and done, now.
So, AZURE BLUE is the retro-modern synthpop project from Tobias Isaksson (Irene, Laurel Music and Hybris record label), from Stockholm, Sweden, co-produced by studio wizard and multi-instrumentalist Claes Björklund (playing with Travis and who's recorded everyone from A-ha to Ron Sexsmith). On the 'anna/logue' side of things they used a beautiful list of gear on the new album, namely Korg MS-10, Moogerfooger, Oberheim DX, Roland Jupiter-4, Jupiter-8, RE-301 Chorus Echo, SH-101, RS-101 as well as Fender Jazzmaster, Telecaster and Vox Neumann U67, only parts of making that special sound. Releasing this music is a dream come true, and Anna thinks there is hardly a person with a beating heart that would not love AZURE BLUE, so do yourself a favour and get this high quality double vinyl package with beautiful high quality music.
Listen here and order here.