(T)reue um (T)reue: ADN' Ckrystall- Musique Atomique Sans Surveillance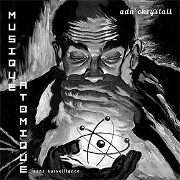 ADN' CKRYSTALL aka Erick Moncollin surely does not need much of an introduction. Every self-respecting minimal wave fan and synth nerd will have heard of the French synth-wizard who jammed with Tim Blake and Vangelis on a MS-20 prototype in the late 70s and whose 1982 cult album "Jazz'Mad" is considered a landmark in the history of underground electronic music. After a pause in the 90s (during which Moncollin became active in the trance and ambient-techno scene under the name Dr. STRANGE), several brilliant albums were released in the 2000s on Anna Logue Records, La Forme Lente and Erick's own ADN and Ysil'Prod labels. Treue um Treue is honoured to present the project's sixth full-length.
"Musique Atomique Sans Surveillance" is a highly skilful, playful yet authentic blend of 70s prog synth, early 80s minimal electro and 90s techno, flowing with ease from library lounge music to spacey weird-wave to electronic exotica, reminiscent at times of BERNARD SZAJNER and CLAUDE LARSON. The spiciest note of this delicious psychotropic cocktail is of course Erick's unmistakable, demented yet committed Deutsch-Frenglish lyrics, which make of ADN' CKRYSTALL such a unique experience.

Listen and order on TuT/RuR shop.