Spielzeug Musak: Merci La Nuit LP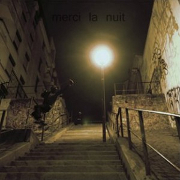 Here we don't talk about a music genre but about an attitude, a position. From the beginning in the 50′s withe "Nouvelle vague", the aim is to find new forms beyond avant-garde and pop culture to express contemporary emotions, to show the diseases of the (post) modern world and to challenge norms and obsolete social orders (like bourgeoisie, religion, work, art..).
French new wave is also a passion for wandering, a general tendency for detachment and it always shared, of course, the DIY spirit. We can find this kind of nonconformism and this common taste for wasted grounds in some movies of Claude Chabrol, Jacques Rivette or Luis Bunuel as well as in the music of Polyphonic Size, Guerre Froide and Merci la Nuit.
With this first release on vinyl, this young musician from Saint-Etienne offers 6 minimal synth-pop songs filled with great sensibility, commitment and a lot of bitter sweet humor. The music is very personal and digs up very different synth music eras, from the 80′s raw analog sounds (with the famous Russian Polyvoks, the Roland 606/707 drum machines…) to the digital coldness of samples and techno kicks, to the more lo-fi minimal sounds (we can greet the presence of our beloved Casio VL-tone!). All those elements connected together are forming the sound of the nocturnal conspiracy of Merci la Nuit.
So let's go for this night ballad in the city streets. It's a bit foggy tonight…
Listen and order on Spielzeug Musak.