Wave Records: Florence Foster Fan Club- Asymmetric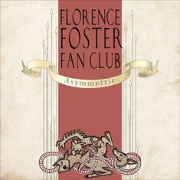 The second album of Florence Foster Fan Club aka FFFC entitled "Asymmetric" is released on Wave Records with ten original tracks and two remixes by Sumerian Fleet and Downward Path.
Similar to the first album, FFFC on 'Asymmetric' remain consistent with the social issues and themes.
The sound of "Asymmetric" is a diverse pattern of electronic music styles, ranging from hard beats and fierce bass lines to a more melodic synth-pop. Old skool with a modern and personal touch.
Repression, censorship, paranoia, media control, frustration, conspiracy theories and secret societies..sounds like a description of Phil K. Dick novels or perhaps it has something to do with Ray Bradbury? No, this is our present time and we are more or less aware of all this. For that reason it's easier for us to deal with such challenges and be proactive.