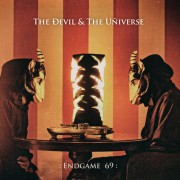 The threatening sound of helicopter blades rotating, indistinguishable radio messages seeped in static, and the strains of a far-eastern melody open the new album by THE DEVIL AND THE UNIVERSE. Once the beat of the drums takes hold, you are reminded these sounds are being provided by the Viennese trio, who take us 50 years down memory lane with : ENDGAME 69 : Familiar electronic sounds, hard guitars and trance-evoking drums meet Indian and near-eastern vocal stylings—exotic drum and string instruments with such delightful names as the Tambur, Darabuka, Tablas, and Santurs. If, however, you think THE DEVIL AND THE UNIVERSE have now officially unearthed their inner trippy-hippies, think again.
The term "Satanic Panic" first emerged back in the year 1969. Most probably as a reaction to the radical social changes and crisis happening at the time. The occult worked its way into mainstream pop and social culture with the Manson Family Murders and the "Church of Satan" grabbing headlines. And also with "The Process" operating as a first ever public religious organisation which addresses satanic content within scripture.
What is happening to us?
Due partially to the growing resentment of the Vietnam War, an increase in drug intakes, revolutionary human rights movements such as the "Black Panthers", the previously peaceful Hippy Revolution started to become more classically militant. When violence and murder were committed at the Altamont Rolling Stones concert, the Give Peace A Chance vibe from just a few months earlier at the infamous Hippy Convention also known as Woodstock, were definitely a thing of the past. What happened at Altamont was a forbearing for a decidedly not so lovey dovey future.
Turn Off, Tune Out, Drop Dead.
It has been a half a century since 1969 but the turbulence of those times can definitely be reflected in contemporary political and social climates. With all their sensitivities about past and present heightened, THE DEVIL AND THE UNIVERSE are staring deep into the dream machine and encouraging Kali's tongue to indulge in sunshine acid.
As with past recordings, Ashley Dayour, David Pfister and Stefan Elsbacher travelled the continents to capture sounds only available beyond the confines of a classic studio. From the Californian Death Valley to the Hindu temples of Vietnamese jungles still ravaged by the violence of last century Napalm devastation. Also a chance encounter with underground filmmaker and magician Kenneth Anger leaves its trace on the new album.